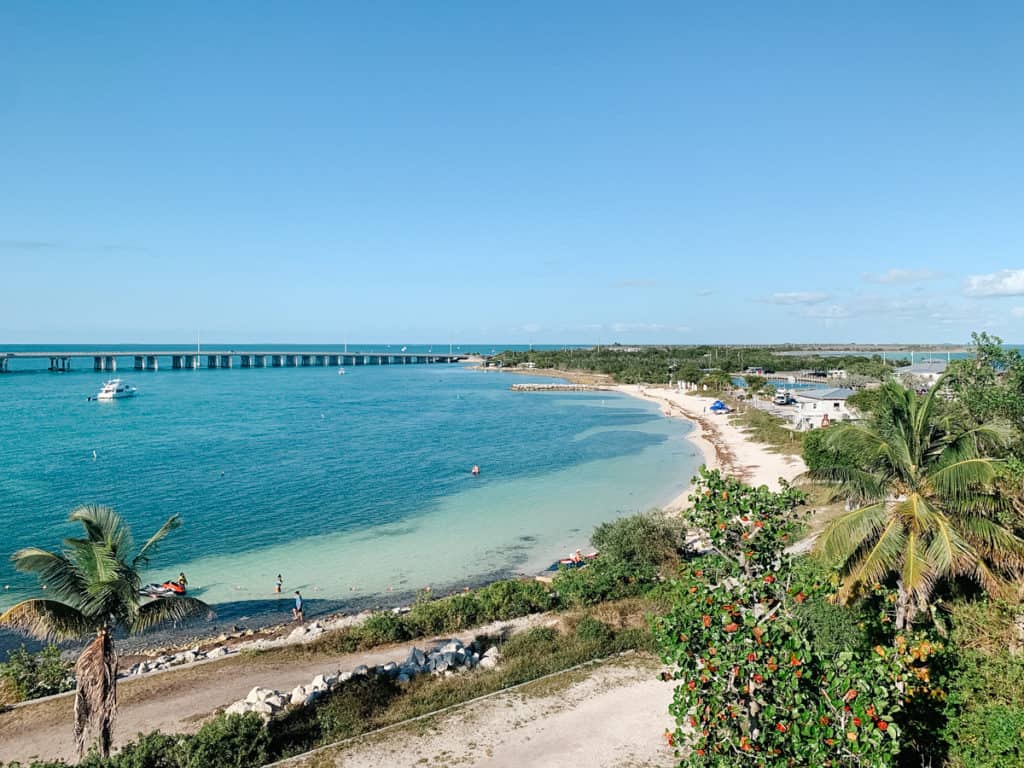 The one of our favorite Florida Keys beaches is Bahia Honda State Park. This is a beautiful area, where you can enjoy the park, the water, or just go walking along the beach. You'll enjoy your stay here.
It's best to visit the Bahamas if you're going to the Keys. Bahia Honda is a must-see destination. Spend a day there. There are many wonderful attractions, including the great view of the Gulf of Mexico and the Atlantic Ocean, the historic bridge, and beautiful waters.
This beach is one of the most beautiful beaches in Florida. It is also renowned for its wonderful sunset views. Clear waters mean that there is always something to do, whether it's swimming or just relaxing. Bahia Honda beach is my favorite because of the sand-covered, palm-lined beaches.
In fact, the only sand in the Keys is the powdery white sand that sticks to your feet when you walk along the beach. This state park is one of the only ones in the Keys to have natural, beautiful and sandy beaches.
Bahia Honda State Park in Florida Overview
Hours: 8 am to sundown, 365 days a year
Fee: $8 per vehicle
Address: 36850 Overseas Highway, Big Pine Key, FL 33043
Phone Number: 305-872-2353
Wi-Fi: Free 24-hour Wi-Fi at the Concession Building
Shade is limited at the park. Rent chairs, snorkel gear, and kayaks. There is also a snack bar with limited choices.
Things To Do at Bahia Honda State Park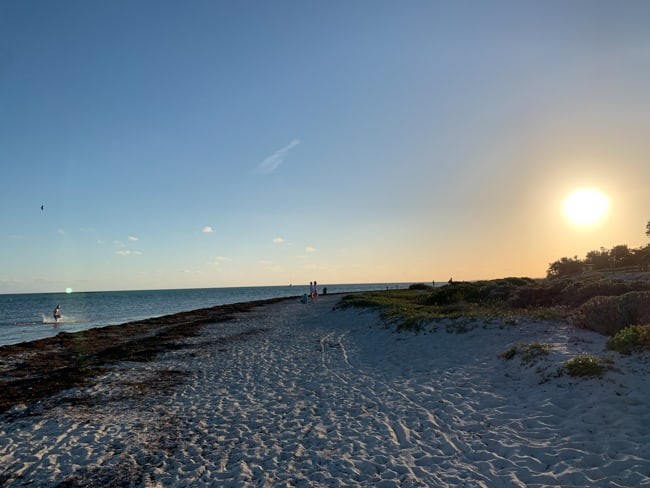 Florida has so many fun things to do! Parking can get tight, so plan ahead to make sure you have enough space. If that happens, you'll be turned away and have to come back another day. If you're visiting on a weekend or a holiday, it's best to get there early in the morning.
The beaches in Key West are awesome because there are several sandy beaches. There are three beaches in the park that are Calusa, Loggerhead, and Sandspur. They make up the largest natural sand beaches in the Florida Keys.
Ocean Beach is the largest beach on Oahu. It's located on the southeast side of the island and is a very popular place for surfing. There are many things to do and see at Sea Turtle Point. It is a beautiful beach with shallow water and a large sand bar offshore.
We visited Loggerhead Beach at low tide and found so many awesome sea animals. Our tour guide said we saw lobsters, sea slugs, and lots of small fish. When you're looking for a swimming beach, the beach closest to your location that has the best amenities and safest beaches should be your first choice.
Visiting Loggerhead Beach at night is an amazing experience, and you'll be surprised to see all the lights. You'll have a great view of the Milky Way. Calusa Beach is on the northwest side of the island and is the smallest beach but has amazing white sand.
It faces Florida Bay. There are some buildings and outdoor showers here. The Calusa Beach Resort is a great resort for swimming and snorkeling, but it's not appropriate for people who are allergic to sand or stingrays.
Snorkeling At Bahia Honda State Park, FL
Bahia Honda State Park is a paradise for snorkelers. It has some of the best snorkeling in the Keys. The Looe Key National Marine Sanctuary offers snorkeling tours. Go here for information about the tours. There are more than a dozen tour choices that start every hour.
There are about 50 different species of coral and over 150 species of fish in this coral reef. Expect to see sharks, rays, grouper, tuna, eels, snapper, snapper, and more. There is a large shipwreck for experienced divers.
You can also bring your own snorkel gear or rent it from the concession stand and snorkel from the beach. Bahia Honda State Park snorkeling is so much fun, but you'll want to use a diver-down flag when snorkeling alone.
Boating At Bahia Honda State Park
There are two boat ramps available for public use at Bahia Honda Marina. If you'll be using the marina to spend the night, there are 19 boat slips where you can moor your boat. There's water and electricity at the wharf, plus you can use the bathroom, hot showers, and garbage cans.
If you want to go out in a kayak, it's best to rent one from the concession, especially if you've never done it before. Rentals are affordable and a great way to explore the area. You can also launch your kayak or SUP from the boat ramp on the Gulf side or the Loggerhead parking lot on the ocean side. You can go jet skiing in the Keys in Key Largo or Key West.
Fishing
The best fishing in San Francisco is in Bahia Honda State Park. If you're fishing for snapper or grouper, the best place to fish is the Old Bahia Honda Bridge.
Nature Center
You should check out the Nature Center on your trip. It's located right next door. Check out the exhibit hall or just stop in and ask a park ranger to answer your questions. It is open from 10 a.m. to 4 p.m.
Trails in Bahia Honda
You have limited time and options at the park, so you might want to check out two short, easy hikes. Take time to visit the many plants and trees in the park, including the endangered small-flowered lily thorns and the rare yellow satinwood.
Silver Palm Trail
The Silver Palm Trail begins from Sandspur, in the Oasis Park area. Check out the information available in the pamphlet that explains a little more about the trails, as well as what the park is like.
Old Bahia Honda Bridge Trail
Stop at Bahia Honda State Park on your way to Key West, it is worth a walk to the top of the Old Bahia Honda Bridge. The trail is pretty short, but it's got good views of the park and the ocean. You'll be able to see tropical fish swimming below from the top of the bridge.
Where To Stay When Visiting Bahia Honda
Camping At Bahia Honda State Park
There are three campgrounds in the park. Reservations are available 11 months ahead, and you'll need to book your reservation 11 months before you want to arrive. I was able to reserve Florida state campgrounds for specific dates, and it literally took less than a minute to do so.
It can be hard to get a reservation but is well worth it for the great views. You can make your reservations online here. If you're traveling in a large RV, Buttonwood Campground is the best place to camp at.
The campsites at this campground are big. They're also made of gravel. However, they don't have much shade. The waterfront sites at these campgrounds are spots 12 through 25. A maximum RV length of 50' is allowed.
Amenities at this campground include electric and water hookups, a picnic table, and barbecue grills. There are showers and a dump station. The prettiest campground in Bahia Honda State Park is Sandspur Campground. RV's are not permitted in these sites because the campsites are very small and they do not have low clearance.
The best places to camp in the park are those closest to the water. Bayview Campground at Bahia Honda State Park is the smallest campground there. It only has eight spots. If you go to Brazil, you'll have to drive under the new Bahia Honda Bridge.
Cabins At Bahia Honda State Park
Each cabin has 3 beds and can fit up to 6 people comfortably. They come with a fully equipped kitchen and can easily sleep 6 people. The cabins at the Bahia Honda State Park have one bedroom and one bathroom.
The sixth seat has two seats side by side, which means there are two seats in this particular row. It also holds four people, so there is space for four more people. This is Cabin #2. Cabins are available year round for $120 a night. If you're looking for an affordable place to stay while in San Francisco, look no further. This hotel is only $160 a night.
Hotels Near Bahia Honda State Park
If you're looking for the nearest hotels to Bahia Honda State Park, look no further than Boot Key. It's a short 15-minute drive over the Seven Mile Bridge to the state park. This is an amazing stretch of the Keys and the view is worth the trip.
IslaBella Beach Resort & Spa is a beautiful luxury ocean-front hotel on Boot Key. There are many great amenities onsite, including a poolside bar, on-site shopping, beach access, and a spa. There are bike rentals available and breakfast to order.
This home sleeps up to six people and offers a full kitchen for your convenience. Every room has an ocean view.
⭐ ISLABELLA BEACH RESORT REVIEWS (4.4/5 STARS)
Very clean in all areas rooms are super clean hotel very well maintained and super relaxing !! – Diana (Expedia Review)
The villas right on the beach were amazing! Friendly staff, attention to details and activities were amazing. – Daniela (Expedia Review)
GETTING TO ISLABELLA BEACH RESORT
📍 IslaBella Beach Resort Address: 1 Knights Key Blvd, MM 47, Marathon, FL 33050
Courtyard By Marriott Marathon Florida Keys (Mid-Range)
A mid-range hotel option near Bahia Honda State Park with good reviews is the Courtyard by Marriott Marathon Florida Keys. The hotel offers standard hotel room options with a pool, beach cabanas, and on-site dining options.
Check out the yoga classes, and if you have access to the tennis courts, use them! There's also a bike rental area, and you can take a free area shuttle to the airport from this location.
⭐ COURTYARD BY MARRIOTT REVIEWS (4.6/5 STARS)
It's great to rent a bike at 7 mile bridge. Breakfast is delicious. – Haruka (Expedia Review) My experience was wonderful. The best hotel in town is this one. It provides excellent service, and it's very clean, and it also offers many amenities.
They provide free beach chairs, umbrellas and towels for you to take to the beach. This place is amazing! They have lots of parking right in front of the hotel which is great because we don't need to worry about parking.
GETTING TO THE COURTYARD BY MARRIOTT
📍Courtyard by Marriott Address: 2146 Overseas Highway, Marathon, FL 33050 |
Captain Pips Marina & Hideaway (Budget)
Captain Pip's Marina & Hideaway is an ideal beach getaway for those on a budget. The hotel is a clean and friendly place to stay. The property has a few apartment-style units with kitchens, and also has standard hotel rooms.
There are lots of opportunities for water sports at the on-site marina, including fishing, boating, snorkeling, and parasailing. If you are looking for a vacation destination with fun activities and beautiful surroundings, make sure to visit La Rochelle.
▶ Check Rate & Book: Captain Pips Marina & Hideaway
📍 CAPTAIN PIPS MARINA & HIDEAWAY REVIEWS (4.4/5 STARS)
We loved the place nice and clean staff was very nice recommend staying – Kathy (Expedia Review)
Love this cute property. Stay year after year and am never disappointed from the staff to the location to the cute rooms. Price is great for the area. – Jennifer (Expedia Review)
▶ Check Rate & Book: Captain Pips Marina & Hideaway
GETTING TO CAPTAIN PIPS MARINA & HIDEAWAY
📍 Captain Pips Marina & Hideaway Address: 1480 Overseas Hwy, Marathon, FL 33050
FAQ
Where is Bahia Honda State Park?
Bahia Honda is an island on the lower portion of the Florida Keys. It's about 35 miles from Key West, which takes about 50 minutes.  It's a 130-mile drive from Miami or a two-and-a It is between Big Pine Key and 7 Mile Bridge.
How Do I Get a Reservation At Bahia Honda State Park?
Getting a reservation at the park can be tricky. This park is one of the most popular in the Keys. You can book a boat trip online, call, or use the brochure that's available at the park. It's best to reserve campsites for your next family vacation before they open.
We started making our reservations at 9 a.m. EST. Campsites get really crowded. You'll want to start setting up your tent before someone else gets there and there's nothing better than having a big beautiful tent all for yourself! Be sure to check for cancellations, but if you don't have a ton of time, you can usually figure out what is available. If you want to go camping in Florida Key's, there are plenty of other places as well.
Is Bahia Honda State Park Worth Visiting?
It is definitely worth visiting Bahia Honda State Park. Whether you're in the area and can spend the day here or just stop by on a road trip through the Keys, there are lots of great things to do there and the views are amazing.
Can You Swim at Bahia Honda?
Key West Beach is great for swimming. The best place to go swimming here is at Loggerhead Beach. This is a good place to go to snorkel, but the water is very shallow. The only place where there are strong currents in the park is just inside the Bahia Honda Channel. You should always check the weather conditions and the water quality before you swim here.
History of Bahia Honda State Park
In 1905, Henry Flagler started building a railroad to Key West. This railroad passed through Bahia Honda Key and was finished in 1912. This project is a huge undertaking that requires an incredible amount of patience and commitment from the team to complete.
Sadly, the railway was never repaired after the hurricane in 1935, and the trains ran for the last time on that line The railroad that wasn't completely built along the Oregon Coast had been converted into U.S. Highway 1. You can still see remnants of the original rail line at the old Bahia Honda Bridge.
Conclusion: Bahia Honda State Park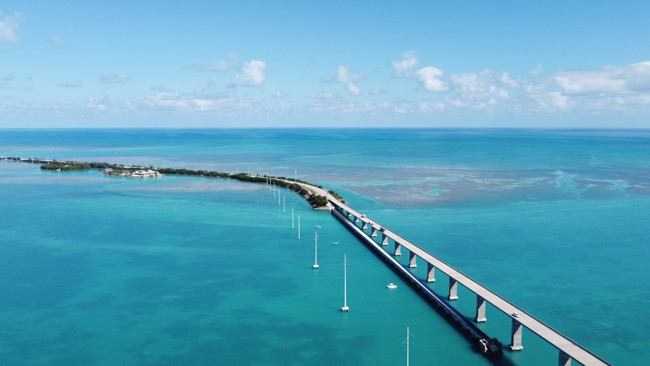 We hope you enjoyed this guide about the beaches at the Bahia Honda State Park. There are so many things to do here that it will definitely be your favorite park in California! Florida Keys camping offers so many fun activities that you may not know where to begin. You'll enjoy so much in the Florida Keys that you'll want to camp at the end of every vacation.
When we visit Florida, we always love the Keys as well as the cities like Key West. The colors of water are some of our favorite. And the view is so unbelievable. You will have an amazing time visiting the Florida Keys. We love the Everglades and visit often, and it would be our dream to take a trip to Biscayne National Park.